GG Industries are the well known manufacturers and suppliers of a wide range of General Doors across Bangalore. Our continuous efforts are directed towards maintaining supreme quality standards in our assortment of doors. In this GI / MS / SS sheet having thickness of 20 SWG is used to fabricate the panel and the overall thickness of the panel is 40 / 42 mm. We manufacture a wide range of General Purpose Doors that are used to in many sectors. GG Industries are the prominent manufacturer and supplier of a wide and exclusive range of General Purpose Doors in Bangalore.

These Doors are fabricated with latest technology to ensure accurate functioning. All of our General Doors are manufactured in our modern facilities to our customer's exact requirements. Our product range includes a wide range of Double Leaf Door, Single Leaf Door and Folding Leaf Door. We manufacture these General Doors in our state-of-the-art manufacturing unit using high quality raw materials, modern machines and advance technology. The insulation material is not used but instead Honeycomb craft paper is used as an infill material. Within a short span of time the Company has established itself as one of the leading players in manufacture of General Doors across Bangalore.
General Doors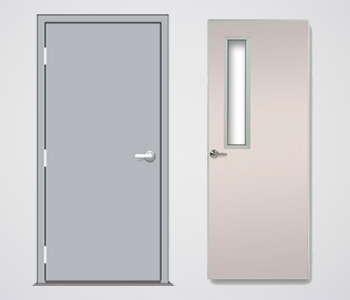 General Doors
General Doors
Being a Bangalore based company we manufacture wide array of all types of General Doors which are used in Shopping Malls, Commercial Buildings, Hotels, Institutions, IT Parks. These are also used in Airports, Auditorium, Industrial & Power plants and also used for Residential purposes.
Salient Features :
Finished with pure polyester powder coating
Multi bend construction and Flush construction
Less MaintenanceUser and Friendly Operation
Unaffected by weather changes
Pre-finished to receive all types of hardware
Robust structure
Galvanized painted and stainless steel
Specifications
Description
Material used
Galvanized Steel is used for Door Frames and Leaves
Door Leaves
These are constructed from 0.8mm thick galvanized steel sheet, formed to
provide a 35 / 45mm thick fully flush, double skin door shell with seamless welding joints all around.
Door Frames
These are produced from 1.2mm galvanized steel sheet, with a maximum bending radius of 1.2mm
Vision Glass
Rectangular, circular or square Plain Float Glass with 5mm thick clear glass can be provided in 300 x 450mm size
Finish
The doorframes are finished with pure polyester UV resistant Powder coating.

We also manufacture customized size doors along with standard sizes
All rights reserved to GG Industries, Bangalore